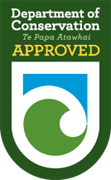 Owhango Adventures should be your first choice to Canoe the Whanganui River, one of the longest navigable rivers in New Zealand.
We are on of a small few who are authorised by DOC (Department of Conservation) as a licensed operator on the Whanganui River.
We are located in the centre of the Ruapehu Region in the North Island and are based in a small town called Owhango.
We offer a Cultural Guided Whanganui River trip as well as a range of Canoe and Kayak Hire options:
Our guided canoe trips are suited to large groups, company retreats or team building events as well as the first timer in a Canadian Canoe.
We also offer canoe accommodation and transport to and from the Whanganui River. We currently have a FREE Accommodation offer available for Canoeists only, conditions apply.


If you have been canoeing before and happy to make your own way down the Whanganui River we can help out with canoe hire.
We also have a Free Accommodation offer for canoeists, conditions apply.


Audited and Approved by DEPARTMENT OF CONSERVATION & ADVENTURE MARK
APPROVED AS AN ADVENTURE ACTIVITY OPERATOR
Contact Owhango Adventures today.